MUSIC CLASS ONLINE - Indian Folk / Tribal / Regional Music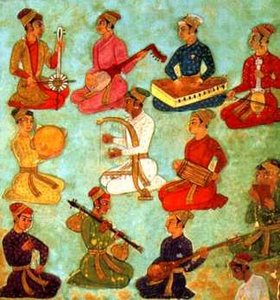 Divya music school in India offers regular vocal and instrumental music classes for learning Indian folk / regional songs singing and online Indian folk singing music lessons on skype for the convenience of the music students all over the world. Divya school of music is promoted by the top music school in India - Divya music sangeet vidyalaya, as the best music education center in India offering Indian vocal and instrumental folk music hobby courses, certificate, diploma, graduation, master's and doctorate level college / university courses in Indian light music. The folk / regional / tribal music is also called Lok geet sangeet or shetriya geet sangeet in Hindi language and since it is a popular style of music in India so it is also known as Lokpriya geet sangeet.



INDIAN FOLK / TRIBAL MUSIC: FOLK VOCAL SINGING AND INSTRUMENTAL
---
The
famous
senior Indian
folk / regional / tribal vocal music gurus
teaching light vocal folk music at Divya school of music teach the art and technique of singing traditional
Indian folk / tribal vocal music form
to the vocal music students in a non – competitive, dedicated and disciplined manner following the well-known, age old 'Guru – shishya parampara' (Indian Teacher – disciple system), in a family like sacred atmosphere. The
Indian folk / tribal music
concepts with their varied styles include folk singing, folk dancing and folk instrumental music represents the rich culture of a particular tribe, region or state in India. The popular folk singing is an opportunity of explore more about the rich cultural diversity in India, the folk singing and dancing may represent expressions of joy, festivities, religious beliefs,
spiritual devotions
, spirit of celebrations like wedding, child birth and good harvest, community services, narrating folk tales – stories of love and heroism and change of seasons etc. The folk singing is usually in the regional languages and the songs are based on the Indian light classical music accompanied with regional or
popular musical instruments
like wood flute – Bansuri, dhol, Tabla, dholak, Shehnai, Ghatam, Tanpura, manjira, mridangam, harmonium etc. composed on popular styles of light classical music which is based on Hindustani classical music. Folk music - folk songs - Lok geet, folk instrumental - Lok sangeet and Folk dances - Lok Nrittya are popular regional performing arts in India and so are fairly visualized in Indian Hindi movies and Indian regional language films.
The popular Indian folk / tribal / regional songs and dances of states in India are:
Folk songs of Chhattisgarh
: Pandavani, Talams and Ladishah Folk songs of Karnataka: Bhavageete, Dollu Kunita, Kolata and Veeragase,
Folk songs of Maharashtra
: Lavani,
Folk songs of Punjab
: Bhangra,
Folk songs of Tamil Nadu
: Naatupura Paatu,
Folk songs of West Bengal
: Bauls, Gombhira and Bhawaiya
Folk songs of Uttarakhand
: Garhwali, Kumaoni and Jaunsari,
Folk song of Gujarat
: Garba,
Folk song of Kerala
: Mappila Pattukal (Mopla Songs),
Folk songs of Mizoram
: Puipun Hla, Hlado and Bawh Hla
Folk song of Jammu-Kashmir
: Chakri
Folk song of Madhya Pradesh
: Leha, Relo
Folk song of Rajasthan
: Panihari songs,
Folk songs of Bihar
: Sohar, Katnigeet and Bhojpuri songs.
Music Class Online - Divya Music
offers regular singing classes for
learning Indian Hindustani folk / regional / tribal vocal music online
under expert guidance of the experienced senior Indian folk vocal teachers online and the best, famous
regional vocal Music teachers online – top folk vocal music gurus
rom folk / tribal music performing groups or regional music and dance troupes and performers in India. Online folk vocal music course lessons offered by Divya Music,
online music learning courses
offers live, real time, one –on - one online folk / tribal music classes and regional vocal music lessons – online web learning sessions with the senior folk Music Guru from India. Online folk / tribal / regional vocal music - Indian light vocal music training and educational courses are available at Divya Music for university, college & school students in India with highly
experienced faculty
of renowned senior Indian vocal music teachers and options to select a hobby music course in the
curriculum
or a complete well defined syllabus for a promising career in performing folk / regional vocal music.
Divya school of music
offers Indian music lessons online on skype -
Hindustani classical vocal music
lessons online, Light semi classical singing classes, Carnatic music lessons online and
musical instruments lessons online
. Flexible online music class schedules for global music students & non-resident Indians (NRI) living in USA, UK, Canada, Australia, Malaysia, Singapore, South Africa, Mauritius, Kenya, Fiji, Philippines, New Zealand, Netherlands, Thailand & other countries in Europe, Africa, Asia, Middle East & South America.
Divya Music
offers special vocal music classes to learn singing – Carnatic vocal, Hindustani vocal – classical vocal and Light classical vocal – Ghazal, Bhajans, folk / regional singing etc. Divya Music - one of the
best music schools in India
, conducts regular and online vocal music classes for Certificate level hobby courses, Diploma courses, Bachelor degree courses, Masters degree courses and doctorate music courses in vocal music.
ONLINE AND REGULAR VOCAL MUSIC LESSONS AVAILABLE IN THE FOLLOWING CATEGORIES
–
Hobby, Certificate, Diploma, graduation and post graduation level online vocal music courses in:
Hindustani Classical vocal - Bhartiya Shastriya Sangeet Gayaki, Carnatic vocal music, Western classical vocal, Western popular vocal, Indian Light classical vocal - Sugam Sangit - Ghazals, Bhajans, Spiritual Chants, Rabindra Sangeet, Indian Folk lessons - Lok Geet, Gurbani Shabad Kirtan and Qawwalis.
DM Live Core - ONLINE MUSIC CLASSES
by
Divya music school
offers the top rated
online music learning
with the following unmatched features:
•
Top
Qualified,
best
experienced Professional
music teachers
from all over the world
• Live, one on one, real time
interactive online music lessons
for students of all levels
• Flexible time schedules of the
online music class lessons
for international students
• Well defined
curriculum
for all levels of learning, developed by the global music experts
• Advanced
music E-books
learning content & music practice (Riyaaz) tools for all levels
• Save on travel time and the cost of travelling to the music teacher /
music school
• Safe & convenient option for
kids
,
children
, women and elderly to learn music online
•
Affordable
, low cost price music learning fees for the best online music class lessons
• Convenience and comfort of learning music at home as a
private music class lessons
• Online
music lessons for beginner
, intermediate & advanced levels of learning music
• Join the appropriate level
music classes
after individual evaluation & the expert opinion
• Private and group online music classes for all age groups and
music learning levels
• Learn with top rated Divya Music school, a
global music
school with international faculty
• Get
music expert opinion feedback
on the performance with the improvement tips
• Multilingual online music class options to learn
Indian
vocal & Indian Musical Instruments
• Online music lessons in English / Regional Languages for
Non Resident Indians - NRIs
• Better consistency & concentration, least missed classes due to
flexible online classes
You are welcome to contact Music Class Online at : divyamusic@yahoo.com